Special Seminar
How to Enjoy Japanese Sake with a New Perspective
February 28, 2019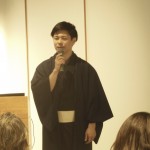 On Wednesday, February 20, 2019, Soul of Japan held a Special Seminar at the event space of Mie Terrace. This was the first seminar held this year with its title "How to Enjoy Japanese Sake from a New Perspective". We invited Mr. Yusuke Miyasita who is the owner of Fushikino, a kaiseki cuisine and Japanese sake paring specialty restaurant, to lecture on the topic.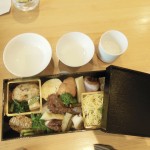 Along with a slide show, Mr. Miyashita gave us a very interesting lecture on his activities abroad, difference between Japanese sake and wine, history of sake tools and how to warm Japanese sake (o-kan). In the latter half of the seminar, Mr. Nakata of Miyazakihonten gave explanation on pairing 2018 SAKE Selection (sponsored by Mie Prefecture) award winning Miyanoyuki (product of Miyazakihonten) and 3 other sakes with Fushikino's dishes. The sakes were served in 3 different shapes of Fushikino's original ochokos (sake cups) and to the participants' surprise, different ochokos changed its flavors accordingly.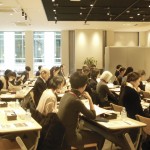 As we succeed the theme from last year, we wish to plan seminars with the theme "How to Advocate the Splendor of Japanese Food Culture to Foreign Visitors." The next special seminar will be held in July 2019. We are looking forward to having you then.