Ever since founded in April 2011, we have been working on Tohoku support activity "Soul of Tohoku – Let us Protect Tohoku  Cuisine"  as  our  key immediate  project.
Soul  of  Tohoku,  in  large,  comprise  of  three projects.   First  is  "Proposing  food processing/manufacturing  sites project" directed to food processing/manufacturing sites in the  coastal area that had the biggest disaster damage, second is "Chefs &  mountain, land and ocean  production  areas  tie-in  project"  to  visit  Tohoku's quality-focused producers and manufacturers,  and  the  third  is  "Team Omusubi Project" which  offers cooking  classes  at  temporary  housing facilities.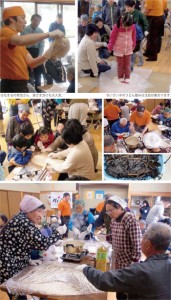 Team Omusubi toured each temporary housings every 2  months
since Oct. 2011 and formed a team with  "community  development  through
food" theme.  We named "Team Omusubi" after "musubu" which means binding
people together.  The  team  consists  of  Soul  of  Tohoku  headquarter
staffs, cooking team  and  guest  chefs.
In  addition,  the  "Chefs  & mountain, land and  ocean  production  area  tie-in  project", commonly called as the  "Chef  Tour",  is  a  project  designed  to  support  the producers and  manufacturers  in  agricultural,  livestock  and  fishery industries in Iwate prefecture affected by the Eastern Japan  Earthquake and  related  disaster  damages,  be acquainted with  Iwate   produced specialties and promote exchange with the chefs.
The  "Proposing  food processing/manufacturing sites  project"  is  designed  to  enhance the values of the products processed and manufactured on sites.   Currently, we are focusing our activities in Iwate prefecture.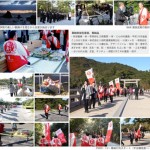 Soul of  Tohoku  is approved as a Specified Nonprofit Corporation in Dec. 2012 and currently manages activities independently.  General Incorporated Association Soul of Japan will continue to support Incorporated NPO Soul of Tohoku.