On Wednesday July 18, 2018, Soul of Japan organized a special seminar on 2nd floor of Mie Terrace.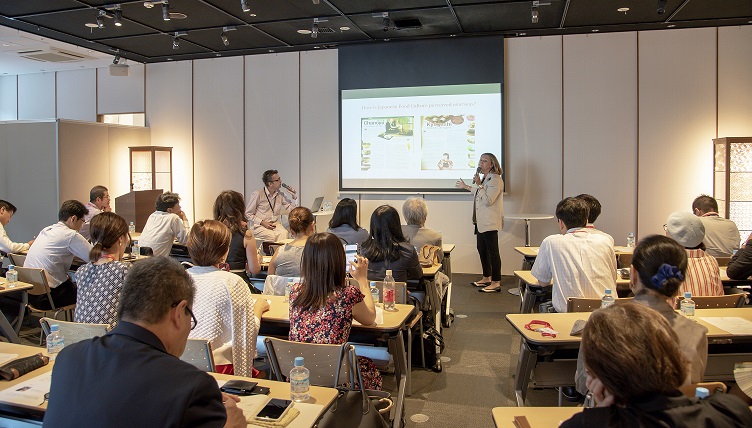 This year, with the theme "Advocate the genuine Japanese food culture to foreign visitors," aiming Tokyo Olympic Games 2020, we are planning to organize three seminars which follows the objective of the foundation "providing Japanese culinary experiences to visitors to Japan" and "advocating Japanese food culture and culinary traditions."
This time, we had Ms. Isabelle Hupperts and Mr. John Ashburne who are managing "FoodiesGoLocal" (an English digital media site on "Washoku (Japanese cuisine)" with its concept "Food is local. Food is culture. Let us begin from Japan, the experience of local foods and culture on global stage") organized by SHARE Pro Co., Ltd., a corporate member of Soul of Japan, gave a lecture titled "The Attractiveness of Japanese Food Culture Seen from Foreigners."
They devote themselves to advocating attractiveness of Japan through experiences of regional culture and food by visiting regional areas throughout Japan. The lecture was on the various experiences they had both in Japan and abroad, especially on the expansion of demand on Japanese cuisine in Europe and how to convey the attractiveness of Japan to foreigners.
Followed by their lecture, Chef Taro Abe of "Washoku Otakou" from Akita, who participated the Culinary Institute of America, World of Flavor in 2010 as a presenter, demonstrated and served Akita local pot cuisine "Kiritanpo Nabe" and lectured on how to advocate regional local food globally. Participants enjoyed communicating and spared precious time.
The next special seminar will be held in October. We are looking forward to having you then.